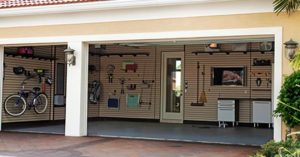 The garage can be a key point in selling your home. Pinellas Waterfront Homes recommends Simple Tips to Unclutter the Garage & Set the Stage for a Successful Sale!
When selling a home, staging is an important piece  that can't be overlooked. From the kitchen to the bedrooms and bathrooms, staging is a great way to make sure your home appeals to the masses. While staging spaces within your home is crucial, many sellers  neglect one important area:  the garage.
While the garage is used for many different things, storage is one of its biggest benefits. As buyers consistently point to storage, space and usefulness as the main criteria used to rate any garage, it's still the most overlooked area when homeowners begin getting their property ready for sale.
In fact, many sellers use the garage as a dumping ground for items no longer needed within the home as it's being prepared for the market, which could be a big mistake when it comes to getting your home sold. A cluttered or unorganized garage can ultimately send the wrong message to a potential buyer, making it impossible to visualize all that the space can offer.
If you absolutely have to use some of the space for storage purposes, be sure to keep everything neat and organized, as this can subconsciously imply that you take better than average care of your home. It may also lend a feeling of newness to the property.
Getting your garage in tip-top shape begins with removing all the junk that has collected over the years and organizing everything on clean shelves. Vacuum up any dirt and do away with any spider webs and bugs. It's also important to make sure there is plenty of light. If there are windows in the garage, be sure to clean them.
Bigger fixes include adding industrial flooring, painting the walls and ceiling and replacing any coils or parts of the garage door that are rusty and not working properly. If you have an automatic garage opener, make sure the batteries are fresh and everything is working properly.
Keeping your garage presentable can be the difference between getting a terrific offer or seeing yet another buyer move on to another home. Taking the time to clean, paint and organize will do wonders for making the space more appealing to potential buyers.
For more staging tips, contact me today.  This information is brought to you by Lori Hopkins,  Pinellas Waterfront Homes, (727) 687-0708.
https://www.pinellaswaterfronthomes.com/wp-content/uploads/2017/12/Web-Logo-4.fw_-1030x180.png
0
0
admin
https://www.pinellaswaterfronthomes.com/wp-content/uploads/2017/12/Web-Logo-4.fw_-1030x180.png
admin
2018-07-01 18:44:04
2018-07-01 18:53:25
Simple Tips to Unclutter the Garage and have a Successful Home Sale!